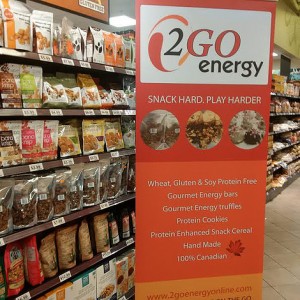 Back to school for many of us is music to our ears.  For others, like busy parents on the go wondering what to feed themselves and their children, it can be a little tricky.   Nonetheless time does not stand still and we need motivate each other to re-set, re-organize and get back into the swing of things.
Summer has come and gone with amazing memories that will last forever.   Many of us can relate to the month of September as back to school, busier streets running to sports activities, earlier sunsets, and lazier days.  But now that we're back to a schedule in September, I would like to introduce 2 Go Energy snacks.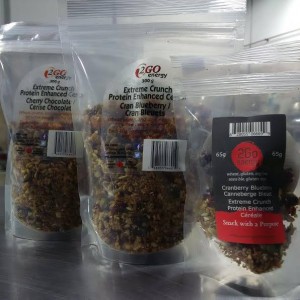 VERSATILITY
2 Go Energy snacks is the latest in high protein snacks and also have the added benefit of being 100% gluten-free.  Made with only high quality ingredients right here in Cambridge, Ontario.  The company aims to provide snacks that are healthy and filling without hidden sugar or empty calories.
This multi-dimensional high protein snack can be used for:
cereals
snack on the go
athletes/students/adults
mixed with yogurt/ice cream
baking
salads
cheeses
BENEFITS:
With little time to prepare healthy snacks for your kids, husbands, wives, brothers and sisters 2 Go energy is a snack with a purpose and behind its name stands many positive features:
high in protein 12gr per 40gr
gluten-free
wheat-free
soy-protein free
no preservatives (only use honey)
natural ingredients
ORIGIN:
Diagnosed with Celiac Disease and a soy allergy in 2007, Michelle couldn't find a healthy snack that wasn't full of sugar or empty calories to eat on the go.  Coming from a baking background she developed a series of recipes that she shared with friends and family and with their support 2Go Energy came to light in 2008.
Designed with digestive health in mind, every batch is hand made in small quantities with the highest quality local ingredients.  Every ingredient they've chosen you can pronounce, they don't use chemicals or artificial preservatives.  Healthy snacking is what they believe in.
With three great flavours – Cranberry/blueberry, cherry chocolate and mango coconut – this homemade versatile snack is an essential part to anyone's diet!
You can find great products like this and others at Lorenz Food Distribution in Mississauga. Distributing food products to independent stores and grocers across the GTA.
At Lorenz Food we take pride in selecting the latest and most innovative specialty products available.  There is always something new and delicious to eat!  As always, we welcome your feedback. You can reach us by email or telephone, check us out on Facebook, or leave a comment right here on the site.
Until next time,
The Team at Lorenz Food